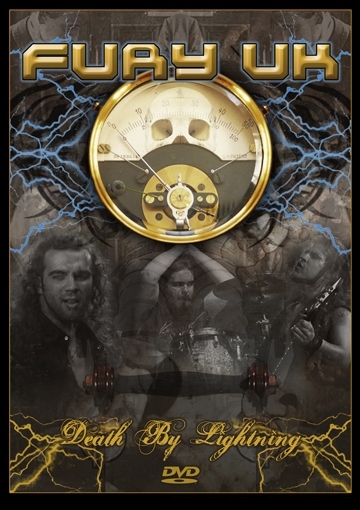 FURY UK "DEATH BY LIGHTNING" DVD
Released 6th April 2012 : BUY NOW estimated for dispatch by 31st March at the earliest
During October-December 2011 Fury UK embarked on the largest touring commitment the band had ever undertaken. This was a tour that took them to 18 different countries, with a total of 35 dates, the bulk of which were as special guests with the awesome American power metal band Iced Earth. Some 12,500 miles were travelled. As with many of the Fury UK tours their manager, Mark, was armed with a video camera & when possible he or the band members themselves recorded proceedings. This covered a whole variety of situations presented now in this DVD & including a video tour diary with many extracts from the set in various countries, whole live bootlegs of some songs, behind-the-scenes footage including backstage, sidestage, soundchecks, travelling in the tour bus. It represents the serious side of the band when at work but also the sillyness which inevitably crops up when killing time on the road. The music business of course includes a good deal of travelling & waiting around. It's always been like that & probably always will.
Hopefully the DVD gives the viewer a bit of everything surrounding Fury UK. On top of that there's also the bonus of 3 brand acoustic versions of "Outpost", "Athena" & "Lost In Forever", together with the band's interpretation of music videos for "Athena" & "Death By Lightning" still including various pieces of live footage. Finally, there's some earlier UK live footage, plus some video clips from the making of the "VR" album back in 2009.
Why "Death By Lightning"? This was an easy choice really as this song over the past few years has become a fan-favourite as an epic set-closer. Out of all the songs on the bands 3 full length album releases & one EP, this is the song that perhaps gets talked about the most & gets attention when people see the band for the first time. The artwork in this booklet also gives an insight into the meaning of the song lyric which seems rarely understood, as does the opening shots of the specific video for the song "Death By Lightning".
Approx. running time 159 minutes.
We hope you enjoy!
We owe a debt of gratitude to....

Mike Collins of Lungfull Design for stunning artwork.

Lynne & Mark from Rocksector Records for making this happen.

"Crazy" Mike Broadhurst for tech duties always.

Mr. Rob for driving on this tour.

Jon Schaffer & all of Iced Earth & their team for taking us on tour.

Duallist Drums. Rotosound strings. Spiral Direct clothing. Seventh Circle jewellery. Gibson & Cort Guitars. Engl & Ashdown amplification.

To our families & loved ones ~ lots of love & thanks for tolerating us.

To everyone buying & viewing the DVD ~ massive thanks to all fans including those who pre-ordered the special fanpacks & whose name appears in the fan section on "Lost In Forever" & of course those who gave us a few kind words in the "Fan Comments" footage.

Thanks as always. See you out there! \m/ \m/

TRAILER