ABSOLVA IS BORN!
Chris Appleton & Martin McNee's new band Absolva is launched today. Check out the details at www.absolva.com
With 3 albums, 1 EP & 1 DVD released between October 2007 & May 2012, plus UK & European Tours completed with the likes of Iced Earth, Saxon, Michael Schenker, Y&T, & Blaze Bayley, plus a great many headline shows, Fury UK have certainly been one of the busiest UK bands on the current rock & metal scene.
The opportunity for a break from recording & touring is now being taken especially in view of bassist Luke Appleton joining Iced Earth. Luke remains a member of Fury UK but the previous prolific amount of records & shows has to be adjusted for the future.
Right now, after completion of the current UK & European tour dates, the immediate plan is for
Fury UK to take an extended break for the remainder of 2012 before reviewing plans for 2013. Rest assured the band will be back with the same line-up of Chris Appleton (lead vocals/lead guitar), Martin McNee (drums), Luke Appleton (bass/backing vocals) & when they are back, it's going to be special!
Meanwhile, Chris & Martin have formed a new band.. Absolva. Check out www.absolva.com

DVD "DEATH BY LIGHTNING"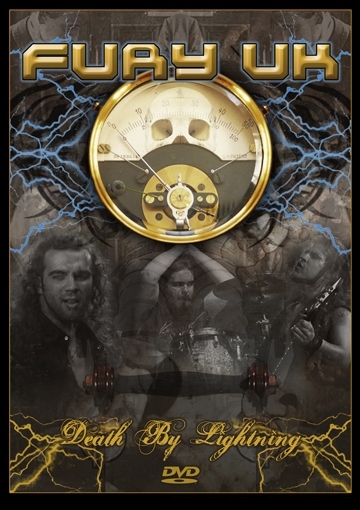 Released 6th April 2012, available exclusively from the Fury UK webstore or direct from the band on tour..
More details HERE
New "Death By Lightning" T-shirt also available at the webstore HERE